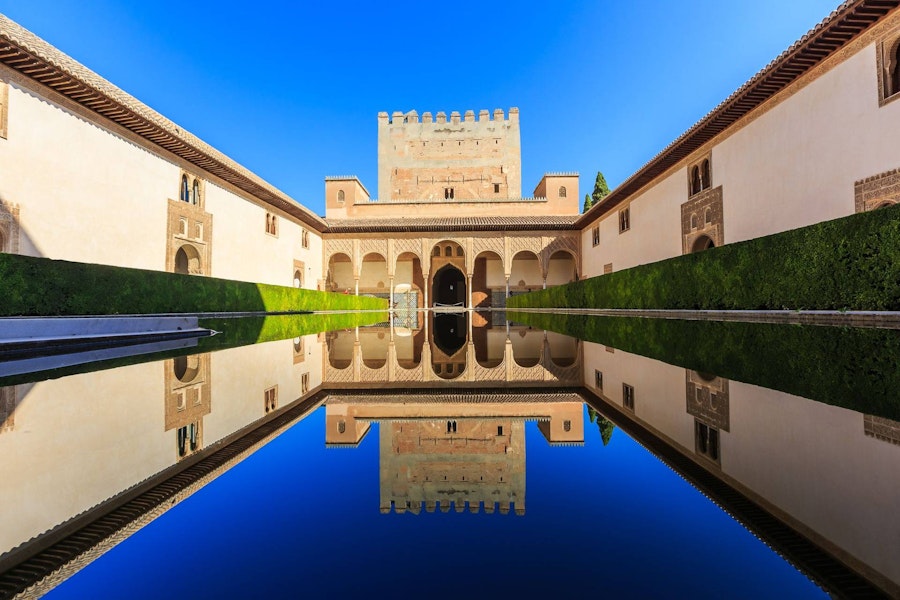 History & Architecture Of The Alhambra
A palace and fortress complex located in Granada, Andalusia, Alhambra is a beautiful and unique attraction that warrants a visit. Essentially a love letter to Moorish culture, this fortified palace complex is located against the striking peaks of the Sierra Nevada. 
Alhambra is not your typical Spanish palace. For one, it's not just a palace but a big complex encompassing palaces, gardens, courtyards, and more. Located amidst beautiful natural beauty, overlooking the Darro River and the old-world Granada city, Alhambra is truly one of a kind.
Amongst the most popular tourist destinations in Spain, Alhambra features stunningly intricate Arabic carvings and bright and colorful tiles, making it one of the most unique attractions in all of Spain. This breathtaking palace gets more than 6000 visitors on a daily basis, hinting at its undisputed popularity. 
History of the Alhambra
Alhambra has a rich past which began all the way back in AD 889 when the original small fortress was constructed on the remains of Roman fortifications. The fortress was left to its own devices for quite some time and then its ruins were rebuilt and renovated by the Nasrid emir Mohammed ben Al-Ahamar, of the Emirate of Granada, during the middle of the 13th century. In 1333, the fortress was converted into a royal palace under the order of Yusuf I, Sultan of Granada. Once the Christian Reconquista of 1492 ended, the palace was transformed into the Royal Court of Isabella and Ferdinand and minor renovation work was done to bring about the Renaissance style in the building. Later in 1526, Charles I & V announced a new Renaissance palace that better represented the Holy Roman Emperor, featuring the iconic Mannerist style but this palace never came to fruition. Post this, there were many changes made to the palace complex when Philip V Italianised the rooms and got partitions built up which blocked up whole apartments. Further damage to the original Moorish art was done in 1812 when some towers were destroyed by the French under Count Sebastiani. An earthquake in 1821 caused further damage to the fortress.
In 1828, restoration work was undertaken by architect Jose Contreras and after his death, by his son in 1847. Another noticeable renovation occurred in the 1930s, led by Leopoldo Torres Balbas who opened up walled arcades, replaced missing tiles and more!
Architecture of the Alhambra
One of the primary reasons to visit Alhambra is the stunning architecture on display. Alhambra is not a singular palace but an entire complex housing Renaissance and medieval palaces and courtyards, all within a fortress. While located in Western Europe, Alhambra showcases traditional Islamic details pertaining to the East, including geometric patterns, column arcades, painted tiles, Arabic inscriptions, reflecting pools, and fountains. Certain features specific to Moorish architecture are on display here including the horseshoe arch, Islamic window screens, prayer niche and more. The authentic Islamic-style architecture on display at Alhambra makes it quite unique given that it's located in Spain.
Select Your Tickets