Your Essential Guide to Visit Alhambra Granada | Timings, Location, Tips & More
Contents
Alhambra in Spain's Granada province is a palace and fortress complex. The medieval palatine city perched on a hill in the beautiful Andalusia region was once home to the Muslim rulers in the 13th and 14th centuries. Known for the blend of Moorish and Andalusian architecture and stunning gardens, Alhambra is a hotspot for tourists and history buffs. 
In 1984, UNESCO inducted Alhambra into the list of World Heritage Sites. Visitors can explore the fortress, palaces, and buildings, and stroll through the beautiful green paths of the enclave. Find out everything you need to know to plan your visit to Alhambra.
Alhambra Opening Hours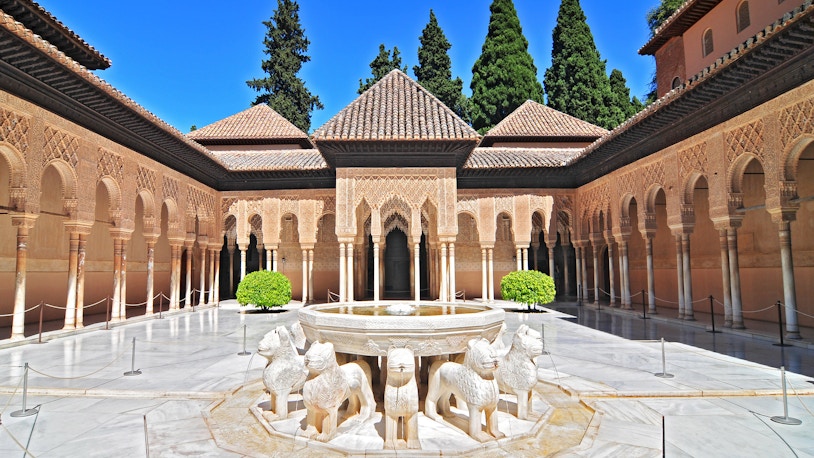 15 October to 31 March: Open daily 
Day tours from 8:30 AM to 6 PM and night tours from 8 PM to 9:30 PM
1 April to 14 October: Open daily 
Day tours from 8:30 AM to 8 PM and night tours from 10 PM to 11:30 PM
Know More
Best Time to Visit | Alhambra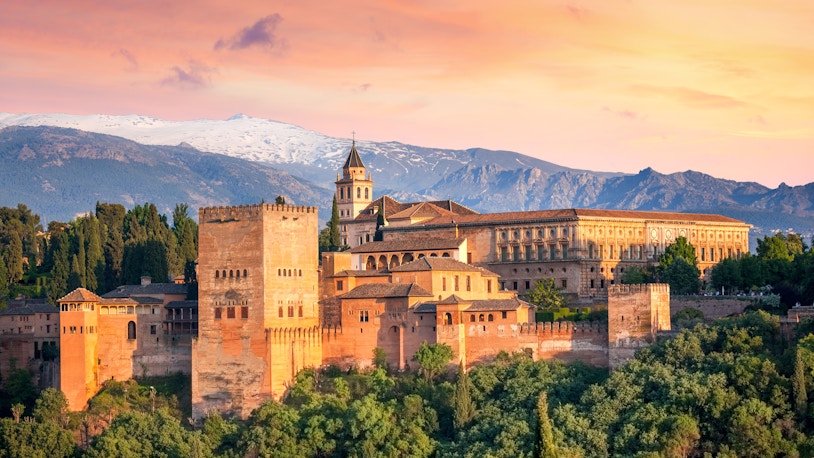 Weekday vs Weekend: Alhambra is one of the most visited attractions in Granada. The medieval town is open year-round and the opening hours vary according to season. However, since the attraction is open as early as 8:30 AM in the morning and night tours extend to 11:30 PM, you can comfortably visit the Alhambra without any hassles. 
You can choose to visit between 9 AM and 10 AM or go for the 3 PM slot to avoid crowds.
Peak Season vs Low Season: The best time to visit Granada is between May and June or September and October, when the weather is pleasant and the average temperature is around 20 degrees Celsius. You can also enjoy the festivals during this season. July and August are hot and uncomfortable in the blazing summer. September and October have cooler climates but expect occasional rains. From November to March, the region welcomes winter.
Where is Alhambra?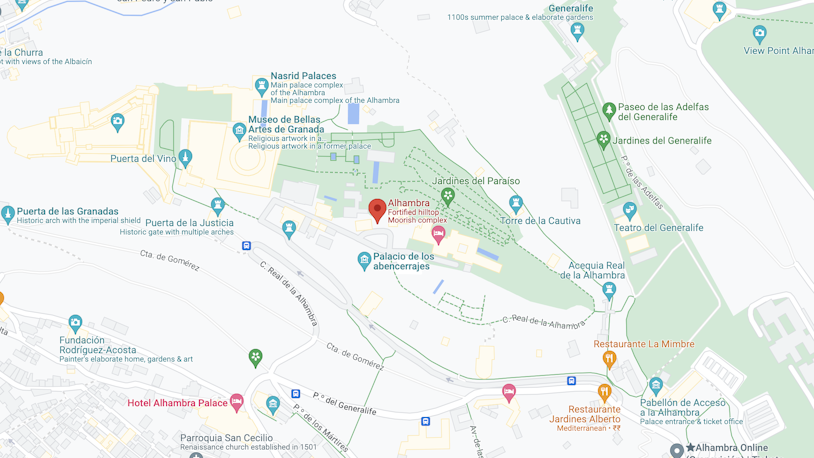 Address: Calle Real de la Alhambra, s/n. 18009 Granada (Andalusia) | Find on maps
Alhambra is part of Generalife and Albayzín in Granada, Spain.
Closest Landmark: Generalife Palace
Getting to Alhambra
How to Get to Alhambra?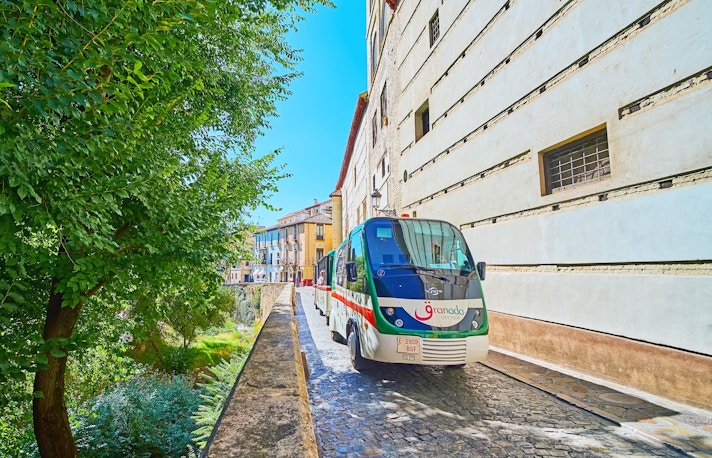 By Public Transport
Taxi: Taxi cabs are allowed to enter the Alhambra complex. You can hail a cab from the city center. The fares fall between €6 and €12 for travel within the city.
Bus: Bus numbers 0110, 01210, 313B, 0111, and 0313A will get you to Alhambra.
Know More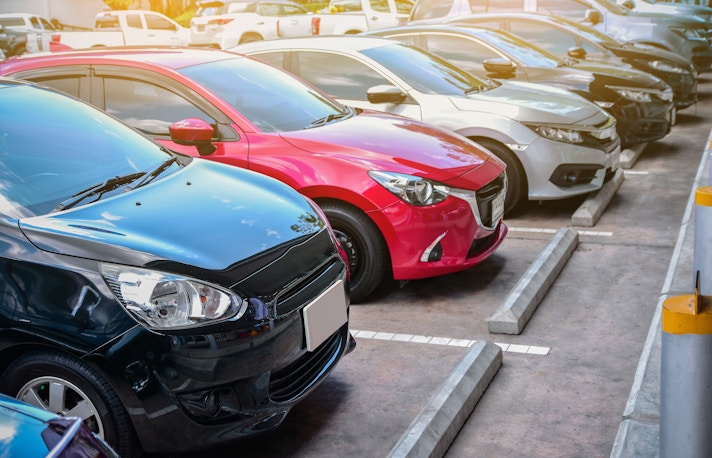 By Car
Private cars cannot enter the Alhambra fortress, however, there is an official parking lot. You can also use private parking spaces near Alhambra.
Parking facilities nearby:
Know More
Know Before You Go
Facilities
Accessibility
Visiting with Family
Rules & Regulations
Dining
Stay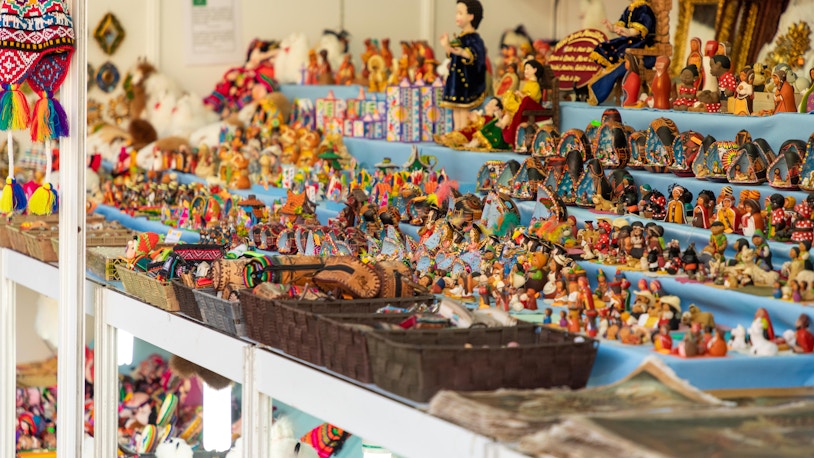 The Alhambra Shop: The shops sell publications, travel guides, and souvenirs. 
Parking: Car parking is monitored 24 hours.
Toilets: Visitors can use toilets outside the complex, near the ticket office, Generalife, and Nasrid palaces.
Free Lockers: Backpacks or bags larger than 40x40 cm need to be kept in the lockers located in the Access Pavilion and Puerta del Vino.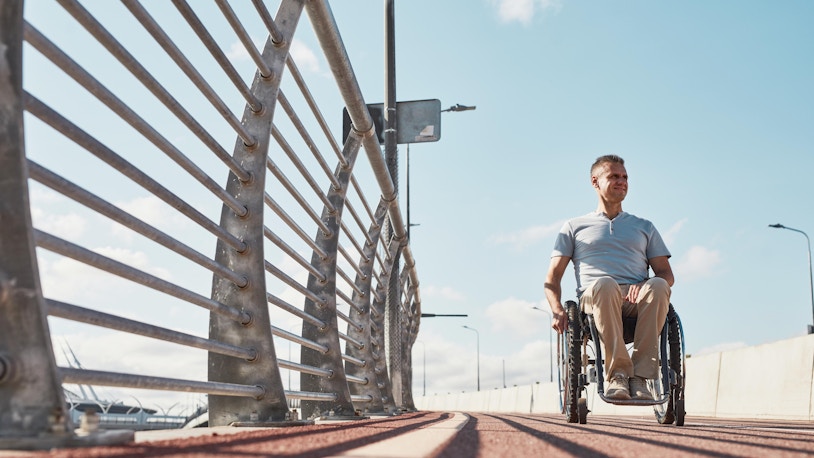 Alhambra is a medieval fort, and some of the passageways and routes are not wheelchair-friendly. Visitors with reduced mobility can ask for a special itinerary. 
Ramps have been built on some of the uneven areas inside the enclave.
Visitors can access a lift to the Palace of Carlos V.
Find disabled-friendly toilets at the Entrance Pavilion and Service Pavilion next to Puerta Del Vino.
Wheelchairs are available for rent at the Entrance Pavilion.
Assistance dogs, touchpoints, and a special audio guide are available for visually impaired visitors.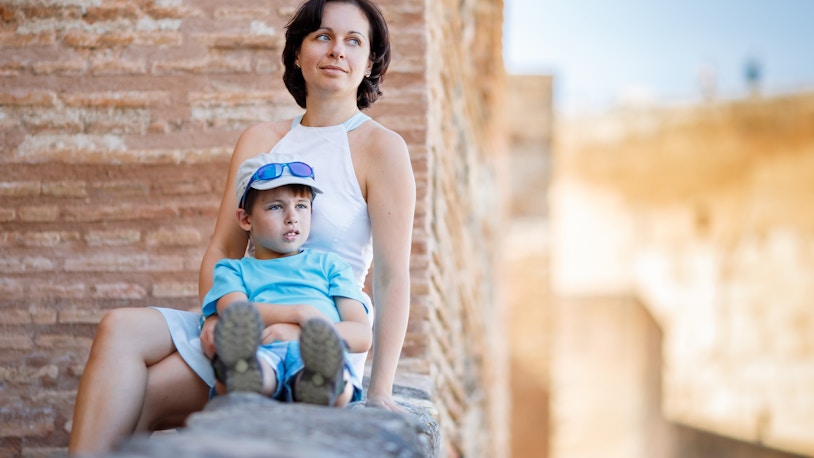 Book free tickets for children aged 3-11. For children under three years old, free tickets are available at the Alhambra ticket office.
Baby strollers are not allowed inside the monuments.
Baby change facilities are available in the toilets.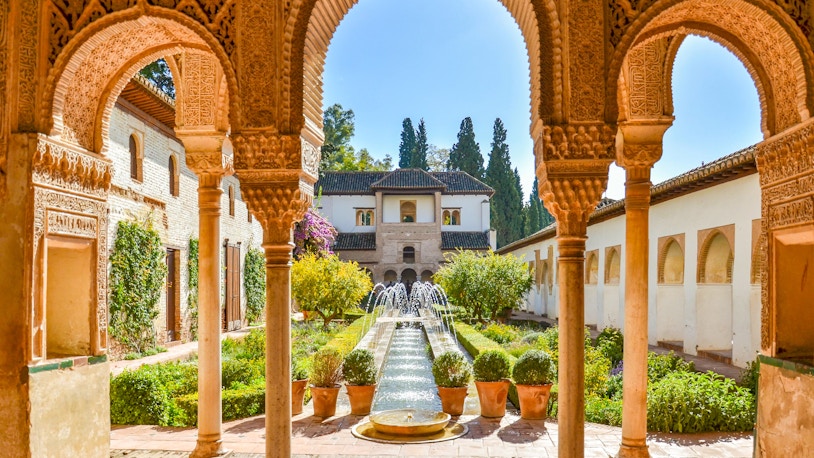 Some of the attractions such as Alcazaba, Nasrid Palaces, and Generalife, can be visited only once.
The parking space for bicycles is in Plaza de la Alhambra near the Entrance Pavilion.
Access to Nasrid Palaces is allowed only at the time mentioned in the ticket.
Photography is allowed but tripods and flash photography are prohibited.
Making inscriptions and graffiti is a criminal offense.
You cannot undress, take your shoes off, or lie down on benches.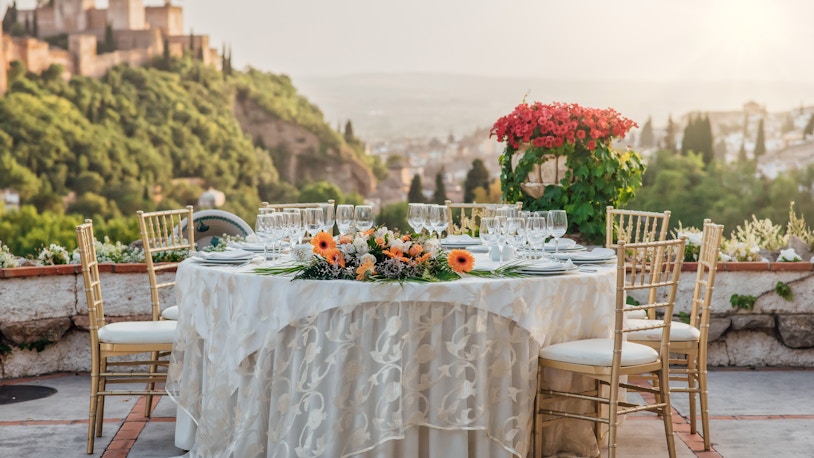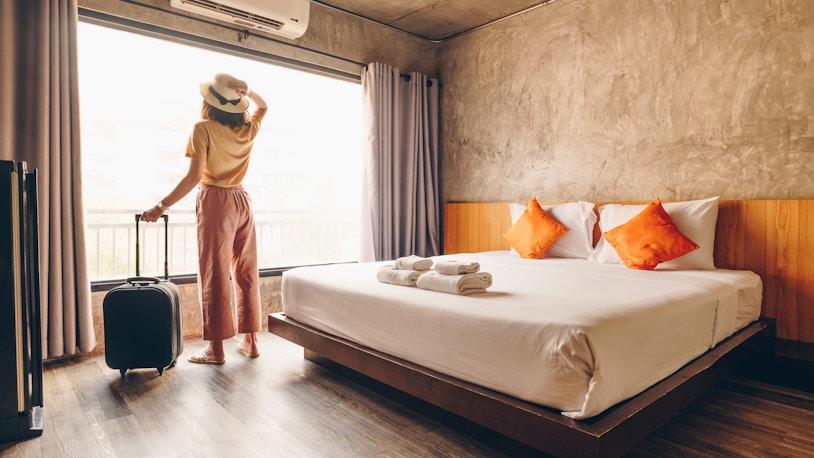 Extend your stay in Granada by staying at a hotel close to the iconic Alhambra.
What's Inside Alhambra?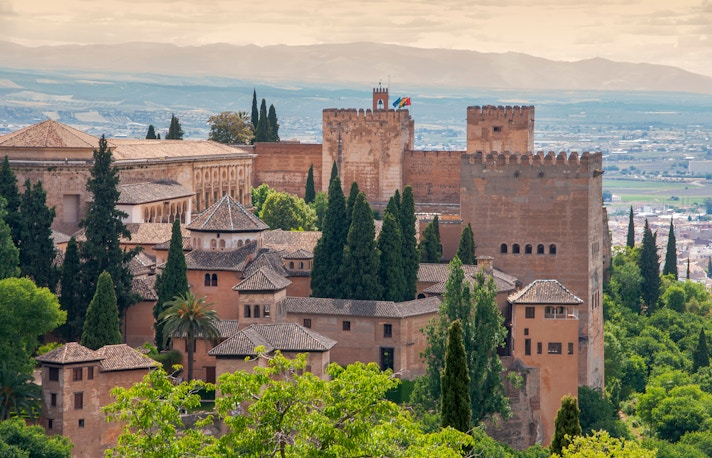 Alcazaba
The oldest place of occupation inside the Alhambra enclave. This is the highest area on the hill. Some of the remains indicate that it had buildings in the 11th century. In the 12th century, there were adaptations made to the structure.
Know More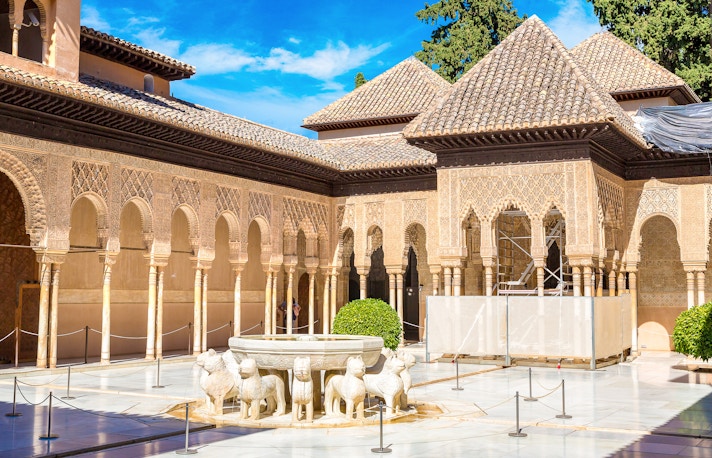 Courtyard of the Lions
 This is easily one of the most beautiful parts of the enclave. It is part of the Palace of the Lions, the winter home of late ruler Mohammed V. The centerpiece is the famous lion fountain. The fountain features 12 lions in white marble, while the courtyard around the fountain has 124 ornate columns.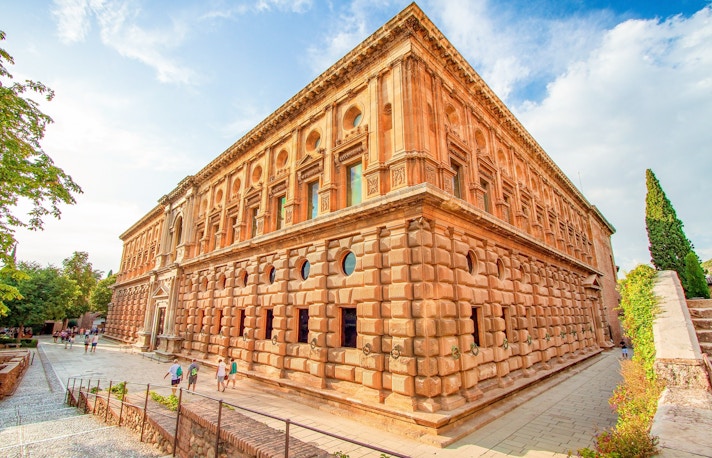 Palace of Carlos V
The Palace of Carlos was constructed in 1526 after the Christian reconquest of Alhambra. However, the palace never was completed for reasons unknown. It still remains a massive structure occupying an area of 63 square meters. The design style is High Renaissance architecture.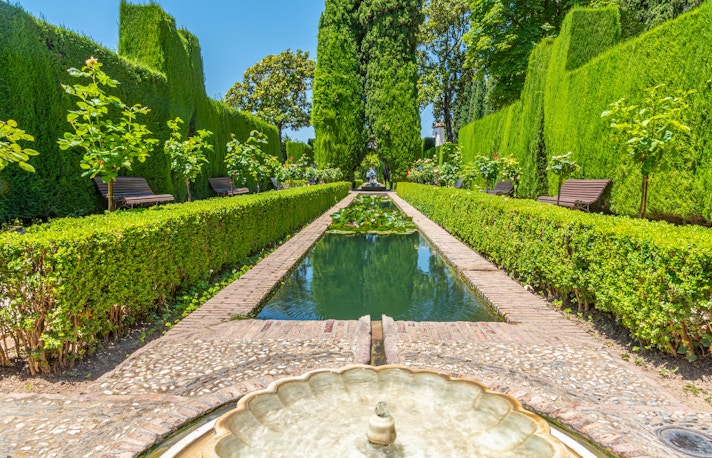 Generalife Gardens
This majestic palace was constructed in 1319 during the reign of King Ismail I. The Moorish rulers used the Generalife Palace as a summer residence. One of the most distinguished features of the palace is its beautiful gardens. Kings have ordered stunning green landscapes and leafy paths to create a natural haven here. These gardens, stretched to the top of the hill, are often reminiscent of the Italian renaissance gardens.
Know more about Generalife Gardens
Frequently Asked Questions About Visiting Alhambra Granada
A. Alhambra is a medieval fortress and garden in the Granada province of Spain.
A. Yes, Alhambra is open to visitors.
Q. Why should I visit Alhambra?
A. Alhambra is the remains of a medieval Muslim kingdom in the Andalusia region. It is a UNESCO World Heritage Site known for Moorish and Baroque architecture.
Q. Can I visit Alhambra for free?
A. You have to buy a ticket to visit the key attractions in Alhambra. Entry to the Andalusian monuments such as Coal Corra is free on Sundays.
Q. How do I book tickets to visit Alhambra?
A. You can buy your Alhambra tickets online.
Q. How much does it cost to visit Alhambra?
A. Your Alhambra tickets start from €14.85.
Q. What is the best time to visit Alhambra?
A. The best time to visit Alhambra is on a weekday as soon as the attraction opens.
Q. What are the Alhambra opening hours?
Q. Can I visit Alhambra with the kids?
A. Yes, Alhambra is a family-friendly destination. Minors can visit the destination for free but still require a ticket. For kids under three years, tickets can be purchased for free from the ticket counter.
Q. Is Alhambra wheelchair-friendly?
A. Most of the Alhambra areas are wheelchair friendly. You can also rent a wheelchair at Alhambra. Please ask for the itinerary for people with reduced mobility for a hassle-free experience.
Q. Can I buy food and drinks at Alhambra?
A. Yes, vending machines are available at Alhambra.
Q. How long does it take to visit Alhambra?
A. Spend about 2 to 3 hours exploring Alhambra.
Q. Is it worth visiting Alhambra?
A. Yes, Alhambra is a UNESCO World Heritage Site. It is a unique ensemble of palaces and gardens from the time of long-lost Muslim rulers of the region.