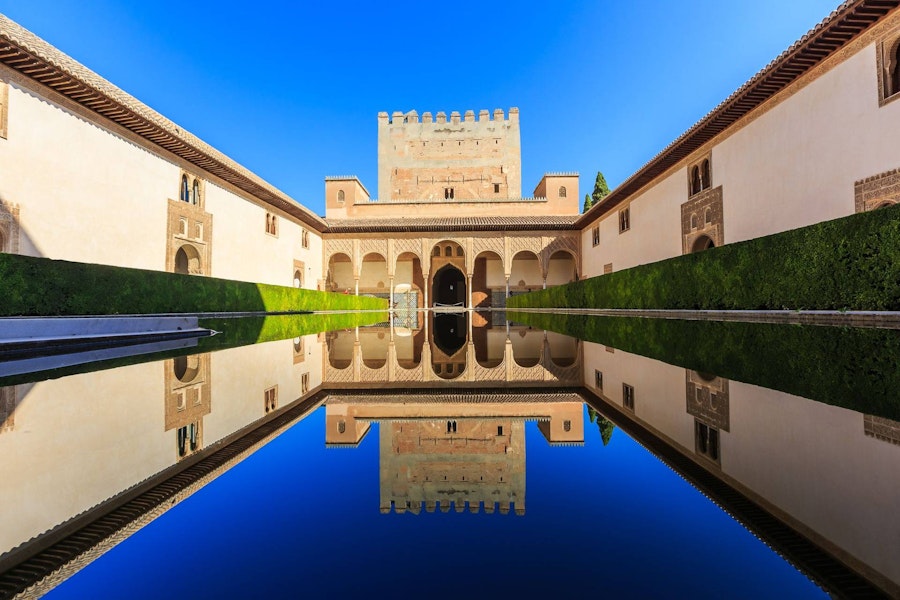 Alhambra Itinerary - Visiting The Nasrid Palace, Generalife Gardens & The Alcazaba
Given its popularity, you can expect the Alhambra to be quite crowded. To avoid wasting time standing in queue waiting for your turn, you can make use of certain tricks.
Buy tickets in advance online: The best way to skip the line at the Alhambra is by buying your tickets online. Please remember that on a particular day, only 6000 visitors are allowed inside the fortress which means you'll have to book your tickets in advance or risk facing a sold out situation. Buying your tickets also gives you access to a special entrance where you don't have to wait in line.
Choose the right time to visit: Just how much crowd you'll face during your trip to the Alhambra is directly related to when you visit the place. For instance, the fortress will be crowded between 11:00 AM and 5:00 PM during the weekends. When planning your trip, schedule your visit to the Alhambra for a time when it isn't too crowded, for instance, early mornings during a weekday.
Go for a guided tour: Another great way to skip the line at the Alhambra is to opt for a guided tour. When you take a guided tour, you don't have to wait in line at the main entrance and can enter the park through a second entrance which is much less crowded. It goes without saying that a guided tour is also great because you actually learn about the fortress's history and conception.
Alhambra Itinerary
To fully explore everything Alhambra has to offer without rushing, you'll need to set aside at least 4 hours of your day. The biggest thing to remember while planning your itinerary is that the order in which you visit the different parts of the fortress is dependent on the time slot mentioned on the ticket to access the Nasrid Palaces. Based on your slot allocated to you for Nasrid Palace, you can follow any of the below routes :
Nasrid Palace - Alcazaba - Generalife
Generalife - Alcazaba - Nasrid Palace
Alcazaba - Nasrid Palace - Generalife
You also need to visit the Charles V Palace but since it's next to the Alcazaba, you can visit it either before or after visiting Alcazaba. Also remember to visit the Alhambra Museum and the Museum of Fine Arts while visiting the Charles V Palace.
To save time inside, make use of the two available entrances - one close to the Generalife Gardens and the other is close to Alcazaba and Nasrid Palaces. Depending on your planned itinerary, choose the entrance.
Select Your Tickets